Connect logins are attached to contact records. This is different from the credentials used to log in to Church Tools.
Each Connect login requires a unique email address.
The Sunergo Connect account system shares the same account system as the Church Tools congregant logon. A user can log in with their account if they already have an existing active congregant account from either the donation form or the existing Congregant system.
Watch this video or follow the steps below to setup new logons.
Creating a Single Logon
Navigate to the Contact Page in Sunergo Church Tools and follow the instructions below to create an account for a contact.
Step 1: Verify Emails

Verify that the Email for a personal record or Email #1 for the contact is correct.
Step 2: Create the Logon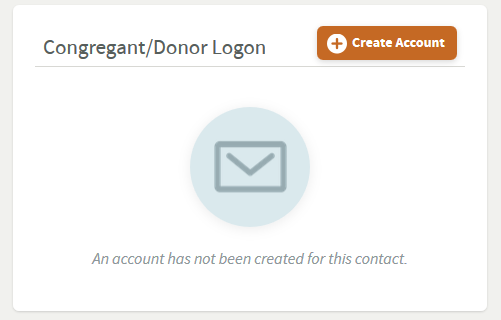 Scroll down to Congregant/Donor Logon section on the Contacts Page. If the contact does not have an existing account, there will an image indicating so. Click on the top right "Create Account" button.
Enter the account options on the next page. There are two options to create the password for the account.
After selecting save, the contact's email address will be sent the new account credentials.
Creating Multiple Logons
You can create multiple congregant accounts at once by going to Admin > Access Settings > Create Congregant Logon in Church Tools.
Couldn't solve the problem?
Email Support Team
Support Hours
Monday – Friday
8:00am to 4:30pm (Pacific Time)
(Closed Statutory Holidays)