Ministry Groups in Connect
Sunergo Connect revolves around Ministry Groups and Subgroups. Ministry Group leaders have updated permissions to restrict and give access to various parts of the system.
Learn more about Ministry Groups by watching this video:
Ministry Subgroup leaders also need to be Ministry Group leaders in the system. The Group Leader permissions are set in Sunergo Church Tools by the administrators.
Options available to Ministry Leader
With Sunergo Connect, comes new Ministry Leader User Group permissions that allow for customization access for the system.
Add Ministry Group Leader: Allows Ministry Group Leader to add other leaders to the Ministry Group and also assign leaders to various subgroups.

Add Ministry Group Member: Allows leaders to add members to their Ministry Subgroup.

Add Ministry Subgroup: Allows leaders to add a new Ministry Subgroup to the Group.

Remove Ministry Group Leaders: Allows leaders to remove other leaders from the Ministry Group

Remove Wall Posting: Allows leaders to remove postings made in the Ministry Subgroup.

Remove Members of Subgroup: Allows leaders to remove members from a Ministry Subgroup.

Email Leaders: Allows leaders to add and view emails sent from the Ministry Group.

Email Subgroup Members: Allows leaders to add and view emails sent from the Ministry Subgroup.

Create Individual Schedules: Allows leaders to create and manage Ministry Subgroup schedules.

View Other User Groups: Allows leaders to view Ministry Leader User Groups other than their own. Enabling will allow leaders to see what user groups have what permissions.

Assign/Edit Points: Existing Permission to allow leaders to assign points in the attendance record.

View All Subgroups: Allows leaders to view other Ministry Subgroup they are not a part of.

View User Group Permissions: Allow leaders to view Ministry Group User Permissions.
Subgroup Posts
Ministry Subgroup members can post messages on a subgroup exclusive thread. All messages can be replied to by other members. Messages and replies can be deleted by either a Subgroup leader or the one that posted the messages.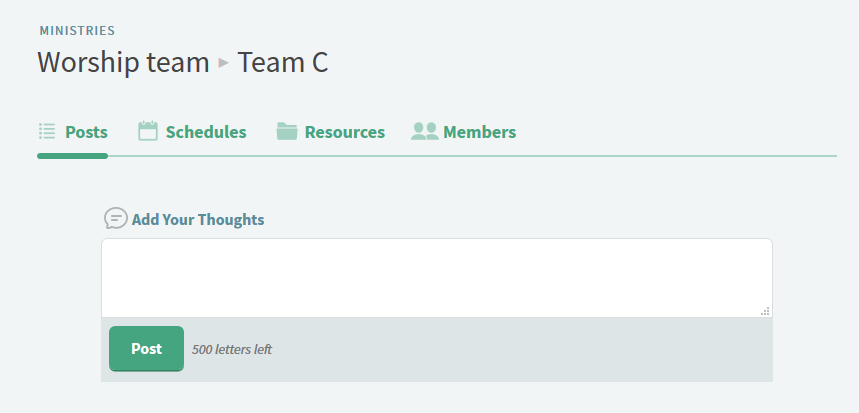 Subgroup Resources
The existing Ministry Group Leader Resources feature in Church Tools has been extended to allow leaders to share resources with their members. These resources can be uploaded both from Sunergo Church Tools and Sunergo Connect by leaders with the correct permissions. Resources can be either files or external links and are shared throughout the whole Ministry Group.
Leaders have the option of restricting resources to only display for other leaders when creating a new resource.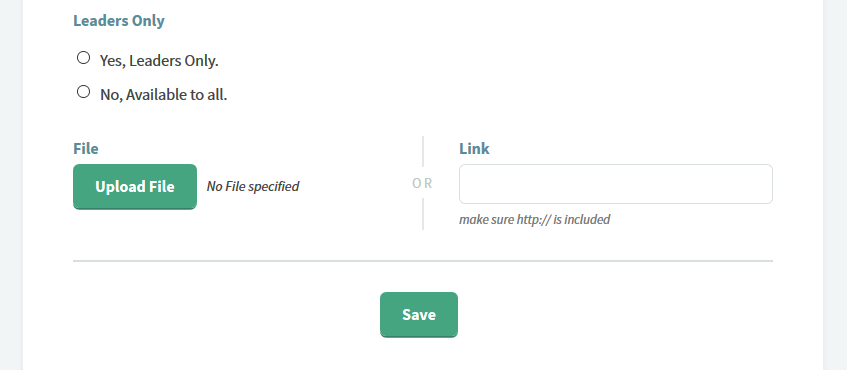 If you are an existing Church Tools client the current Resource Groups will all be set to No for the new Is Public option. This default behaviour will avoid any sensitive files being shared unintentionally to new congregant accounts. Please set the desired Resource Groups to "Public" in Church Tools.
Subgroup Members
Leaders can add a new member, take attendance, and send a mass email to the subgroup all under the Members Tab.

Subgroup Scheduling
A new feature exclusive to Sunergo Connect is the ability for leaders to create and manage schedules for Ministry Subgroups. The scheduling feature will be available to those leaders with the necessary permissions.
Couldn't solve the problem?
Contact Support Team
Support Hours
Monday – Friday
8:00am to 4:30pm (Pacific Time)
(Closed Statutory Holidays)