Updating Contact Information
Sunergo Connect allows users to update their personal contact information. Since the data is shared across Church Tool and Connect, any changes made by the user will be reflected in the Church Tools System.
Watch this video to learn about the Self Serve options in Sunergo Connect:
How to update your information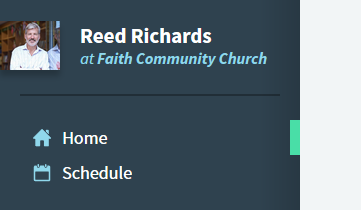 Select the top left of the sidebar navigation where your contact picture and info are located.
On the My Info page, there are various fields that users can update including uploading a new picture. Account credentials can be changed at the bottom of the form. Note that the Account email is the one that will be receiving notifications and must be unique.
Family information can also be updated but only by family Head of Households. The My Family tab will only show for those that are head of household for their family.
Head of Household members can also edit the information of family members as well. Update family member information by selecting the My Family Members tab.
Couldn't solve the problem?
Email Support Team
Support Hours
Monday – Friday
8:00am to 4:30pm (Pacific Time)
(Closed Statutory Holidays)